Ticket Management System is a software system which Integrated with computer technology, mechatronics, information recognition technology, the Internet and mobile Internet technology
Before scenic commonly used artificial ticket, artificial way ticket,existing reports statistics slow, loopholes, error rate, labor-intensive and other shortcomings .
Ticketing system information through a highly intelligent system platform management ticketing, check-in, check summary statistics, reports, marketing, and other scenic areas of daily operations
Timely, efficient and accurate data to provide detailed evidence for area management and decision-making, to achieve scientific and standardized management of scenic
Ticket Management System Function Structure
TICKETING SYSTEM NETWORK TOPOLOGY
TICKET Turnstile APPLICATION
The ticket system can simultaneously integrated scenic park ticket management with consumption system.Whether it is a temporary  of ticket user or member users, both are available through the card, two-dimensional code and other information into the area and a variety of consumer applications. Area management to meet a variety of consumer applications.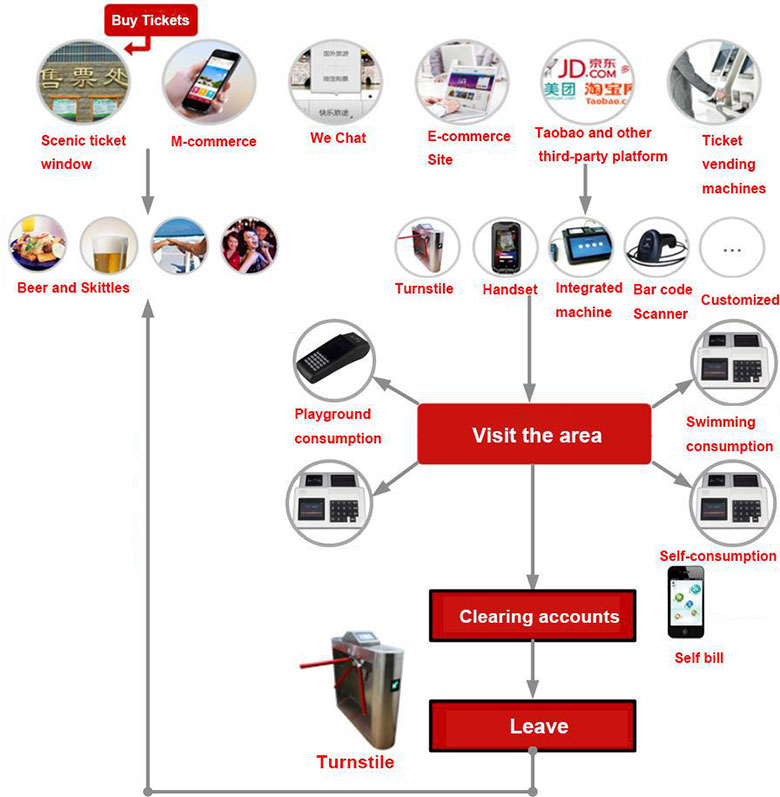 TICKETING SYSTEM ACCESS CONTROLLER
Ticket System Function Introduction
To control turnstile, all business logic can be unified management through a powerful ARM chip.
To integrate all the commonly used identification devices, including all kinds of cards, fingerprint identification, bar code identification,etc.
Integrated display: external 5-9 inch color screen, you can customize the background color, according to the business logic to customize the display content and related functions.
Integrated alarm unit: through the built-in relay, control LED lamp and alarm unit.
Integrated voice unit:Built in TTS voice reading system, support Chinese & English (Bilingual) reading aloud.
Integrated card reading and writing unit:Including the Mifare card, CPU card, such as various types of commonly used to read and write cards, integrated read write unit can realize the card read write function, support card wallet model and support credit card charge back.
integrated memory Unit:Standard configuration Flash 32M memory, can be enhanced to Flash 64M storage capacity (additional charges). At the same time support the TF card and U disk function, can be used for storage extension. Memory cells can be used to store lists, records, configuration, and so on.
Integrated communication unit:Standard configuration 100M wired network, using TCP/IP communication protocol. At the same time, the WIFI wireless network module and the GPRS mobile network module can be selected, and the data communication and the data communication of the mobile environment are realized.